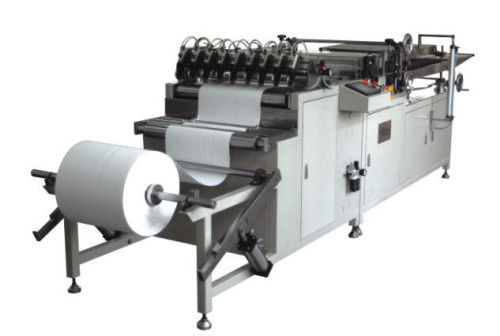 Full-auto Roller Pleating Machine
Description
I. Consists
1、Auto paper de-coiler
2、Paper Pre-slitting machine
3、Pre-heating device before pleating
4、Auto counter
5、Water steam device
6、Rollers marking machine
7、Roller and gear collecting device
8、Pleated paper heat forming and conveyer device
II. Specification
1、Product capability:0~35m/min
2、Max.width:600mm
3、Min.width:30mm
4、Max.pleat height:50mm
5、Min.pleat height:10mm
6、Customize the rollers sizes
7、Temp.control: normal temp.~300oC
8、Main power:12kw
9、Working air pressure:0.6MPa
10、Power supply:380V/50Hz
11、M/C weight:750kg
12、M/C dimension:4135×1190×1170mm(L×W×H)
III. Features
1、The pre-slitter uses pneumatic cutting round knife, which is adjusted simply and pressed evenly.
2、This machine equips the pre-heating and water steam device, to prevent the paper breaking when roller marking.
3、This machine equips the gear collecting system, so to faster the pleating speed and well pleated the paper.
4、 The rollers can be made with bubbled type or the pleat-lock type, which is used to maintenance the certain distance between two pleats.
5、This high automatic machine has the process of the process of the auto count marking,pleating,pre-heating and forming.
6、This machine is computer control and simple operation.