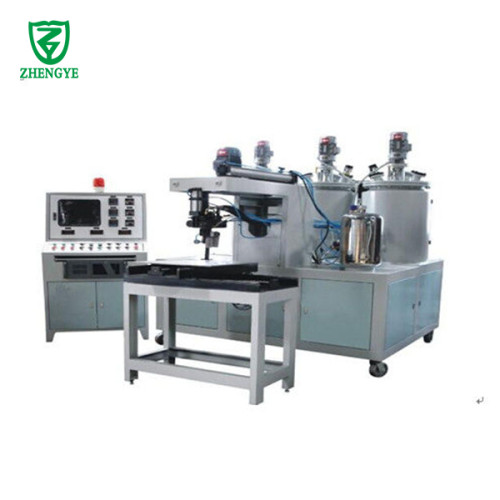 Full-auto PU casting machine
Description
Consists
Tank: stainless-steel tank of three-layer structure with stirring and automatic constant temperature reservation functions.

Pump: slow speed, high accurate flow control pump with precise actuating and display devices.

Nozzles: Featuring automatic three positions switching which includes pouring, flow inversing and flushing, without any advancing and lagging. The nozzle pneumatically dislocates after the pouring work and then the automatic flushing course starts through program control.

Workbench: The die set is positioned on the self governed all-around workbench afterwards round or square seal packs or seal pack with special figure would be automatically poured.

Control: The temperature, pressure and the extent of pouring would all be displayed digitally while controlled automatically. The workbench is operated in accordance with the requirements displayed from computer screen.
Specification
| | |
| --- | --- |
| Overall Output | 5-15g/s Design Mixture Ratio: A:B=100:25-35 |
| Automatic Shift Extent on the Pouring Nozzle after Operation | 450mm |
| Max Size on Quadric Automatic Lading | 400*300mm( L*W) |
| Max Size on Circular Automatic Lading | Φ350mm |
| Moving Speed | 2-10m/min |
| Overall Power | 8KW |
| Power Supply | 380V/50HZ |
| M/C Weight | 1000kg |
| M/C Size | 1500*2000*2100 |
Feature
1. Digitally displayed gage unit program controlled electronic operation.
2. Stable and accurate measurement self-controlled constant stuff temperature
3. Originative construction on bucket, steeples-regulation stir.
4. Novel design on nose, precise fine turning flow inversing structure.
5.The machine designed with x-y axial square revolving working table which can not only pour square seal pack, but also round and special seal pack.